Your right Georgeld just shooting a few animals isn't a very accurate way of testing a bullet and its performance on Pred... It seems with the plastic tip bullets you need to match the vel. along with the distance you shoot the most to find what works the best.. I'm one of the fast and flat type of guys and in most cases the plastic tip bullets just don't get the job done the way it should be. A surface splash is a surface splash and if it does it once on a coyote its going to happen again. To me just one splash is too much and won't bother using that bullet again and still don't if I can find another bullet type and weight that does a better job. H,P. and soft points seems to work the best on an over all scale at varies speeds and distances and I talk from experience and not something I heard or read on the net.
Had a funny thing happen this year as far as bullet performance goes, a member in my hunting group shot a coyote at 200-400 yds, not sure of exact distance, he hit the coyote good but it didn't go down for long and was back up and running. Another member of group then shot the coyote with his rifle and finished it off. When the skinner was skinning out the coyote he found a bullet intact and just under the hide with no tissue damage what's so ever. Bullet turned out to be a 22 cal. plastic tip fired from a 223 of which the first shooter was using.. Not good in my book.LOL
Here is a coyote shot by a 204 that would of fetched around 50.00 if the bullet would of done its job the first time around.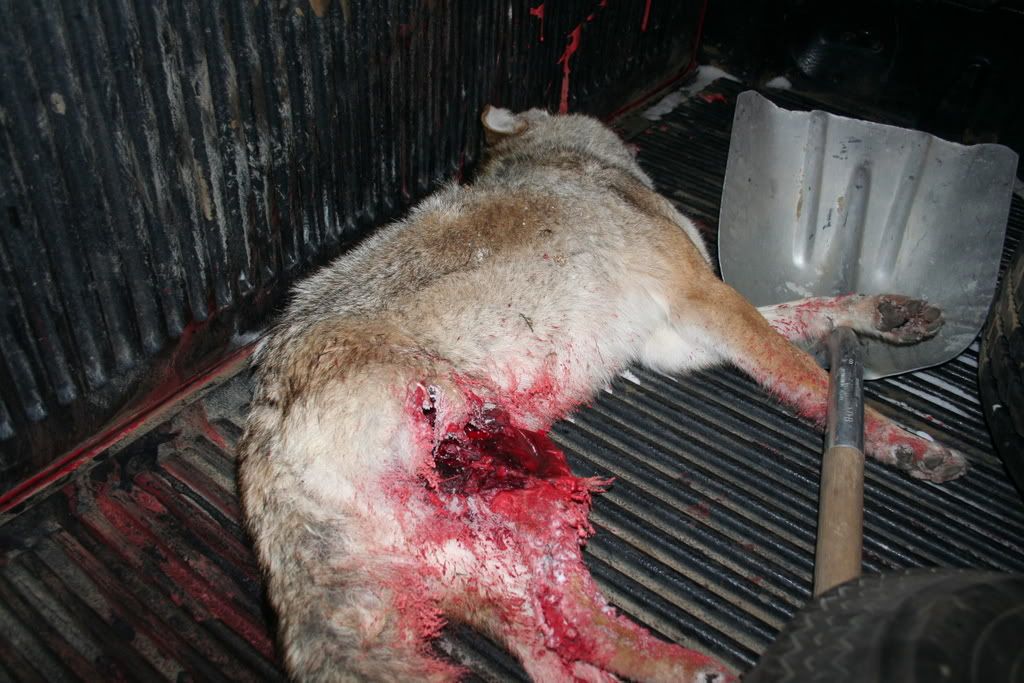 You use a crappy bullet you will have crappy results.
The larger cal. plastic tip bullets are built a little tougher so you can get by with using them on coyotes but anything in 22 cal or smaller is best left for shooting prairie dogs.