August 2002 - Tony Boyer School
Back to School - with Tony Boyer
Back in April, when I heard that Tony Boyer was going to start teaching benchrest shooting, I knew that I had to inquire. I called and left a message on his answering machine and awaited his call. Once he called, we worked out the details and arranged the dates. I had attended the NBRSA benchrest school in Michigan last year with my father, Leo, and looked forward to sharing this experience with him as well. I scheduled 2 days with Mr. Boyer, one for my father and one for myself. Mr. Boyers residence is much closer to us than Michigan, too, which made it an easier trip.

Leo was first up, and I listened carefully and took notes. Our first day started out with a session where we got to ask our questions and get answers from Tony. After we were through with our questions, he gave us a list of Tonys rules. As he went down his list, I was writing them down. Some clarification was sought after some of the rules to further enlighten us. For a complete list of Tonys rules, youll either need to schedule a class with him or wait for publication of his new book.

After we went through all of our questions and answers, we started at the bench with our setup: the placement of our equipment on the bench, the placement of ourselves at the bench behind the gun, and the method of gun handling.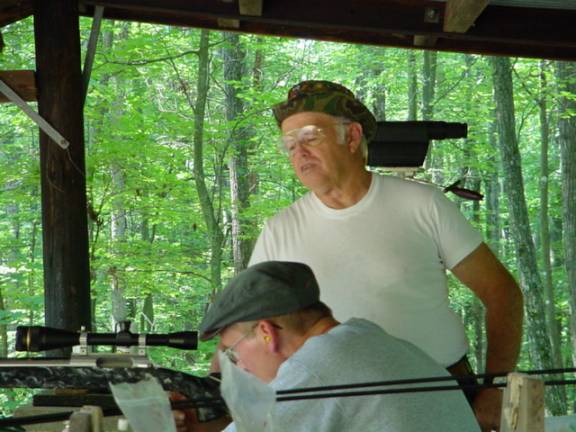 Leo needed to work up a load for his gun, since we just screwed on a new barrel the week before. This was a valuable exercise that I would put to use the next day myself. Tony said within 12 rounds he could tell if a barrel was gonna shoot. He shoots 3 shot groups to work up a load. He suggested that we load 3 rounds of 52 clicks, 3 rounds of 53 clicks and 3 of 54 clicks using n133 and a Harrells measure to throw charges. We already had the brass prepped, primed and ready to load. I loaded the prepped cases while Leo and Tony sent them down range. Once the load was established, 53 clicks of n133 (00 lot 392) coupled with a 66 grain Euber bullet (Myles die) Leo was set up to run some groups watching the conditions.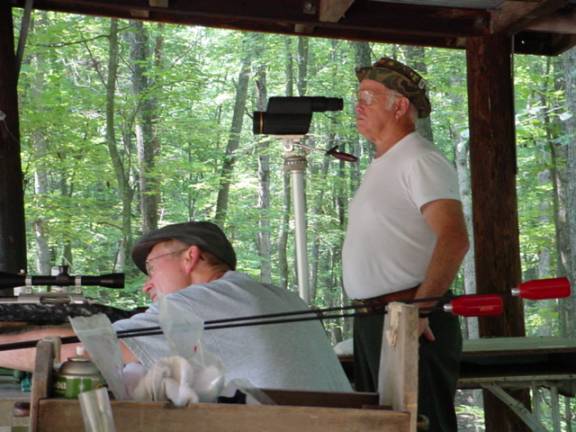 After we got ourselves set at the bench with our load tuned, we discussed wind reading. Tony has a method of running a group that he explained to us. He also watches the flags to determine what condition he will shoot and determines at what point to start shooting.

When it came time to shoot, Tony did a lot of watching but allowed Leo to shoot the group before he would offer any suggestions. After the group was complete, he would ask what was done right or wrong. He would make suggestions for improvement on the next group, maybe what condition caused the group to open up or what flag to watch in that condition. It was amazing to see how he watched the conditions and he would tell us which condition was friendly or which condition would allow enough time to get off 5 shots.

A fair amount of time was spent working on running groups, trying to improve upon speed as well as condition reading. I could hardly wait for my time to come the following day and even decided to shoot a couple of groups that evening when my father was done.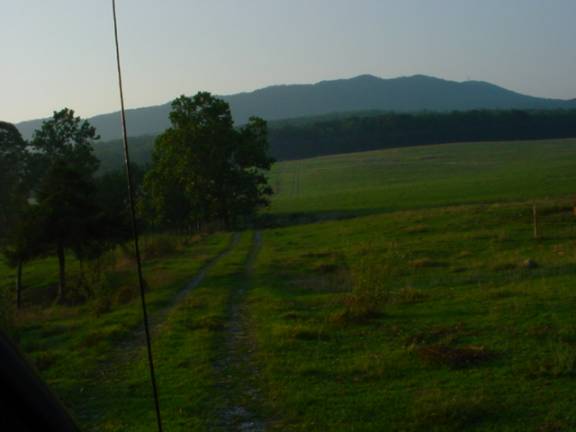 The next day would start early and a picture was taken of the beautiful VA countryside on the way to the range. Tonys range is a very peaceful place that is nestled behind a livestock pasture on the side of a mountain. A nice place to spend time, and indeed Tony has spent some considerable time here.

At the beginning of my training day, I was shooting something a little different than Tony was used to, my .30BR.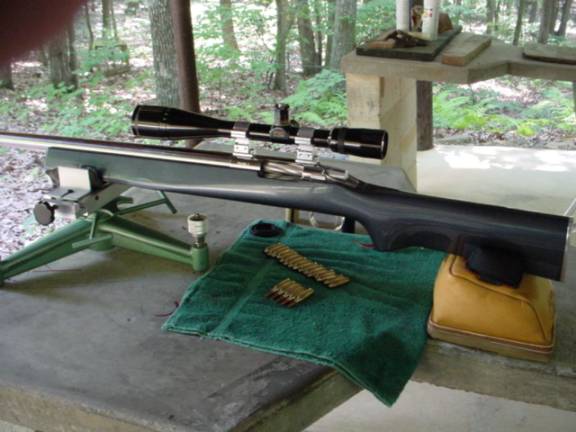 I started out shooting pretty decent groups with the .30BR, but we did a little fine tuning and then I shot a couple of impressive groups. The groups shot at the top of the page below were shot after Tony suggested dropping down half a number on the measure and decreasing the bullet seating depth. It sure seems to have worked. I think that Tony was impressed by the .30BR and certainly a little surprised at the accuracy.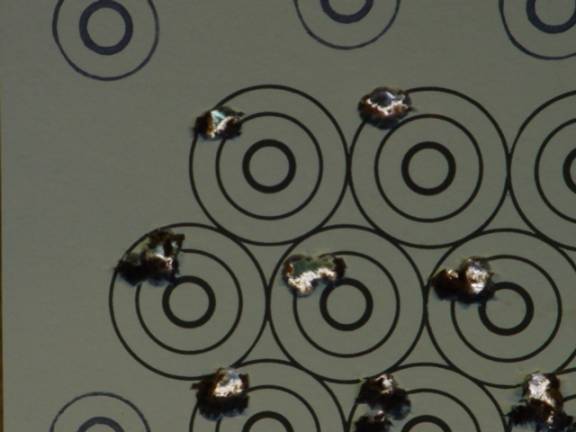 Then I switched barrels and broke in my new 4-groove Shilen 6PPC barrel using the Tony Boyer barrel break-in method, which consists of shooting 20 rounds and then cleaning. I use the 20 cases that I needed to fire-form. We started with the 3 shot groups, loaded at 52 clicks, 53 clicks, and 54 clicks. After shooting those, I loaded up some more at 53.5 and 54 clicks. I shot those groups, trying to shoot fast in the one condition. I was shooting all using the same point of aim as Tony watched through the spotting scope. The barrel shot great, and Tony said that he had seen enough from that barrel to know that I should take it off until I was ready to shoot it in a big match.

For the remainder of the day, I asked Tony to set up one of his guns to run a few groups so that I could watch his bench technique. He brought out his HV gun built on a Hart action, which he considers one of his most accurate guns. I had never seen Tony at any of the small matches that I had been to previously and looked forward to seeing him run some groups. Below is a picture of Tony shooting his HV gun.


I found it very interesting to see him clean a new barrel as well, using an ammonia solvent called blue goop which is activated with hydrogen peroxide. I had never seen anyone clean as aggressively as Tony does. He says the more frustrated he gets, the harder he cleans. Id hate to see that!

We didnt know what to expect when we headed out to Keezleton, VA, to see Tony for advice about benchrest shooting. I was so excited I couldnt even sleep the night before we left. We knew about Tony Boyer everybody in benchrest does but we didnt know Tony Boyer. In fact, neither of us had ever met the man. All we knew was the legend; the man who has won almost a hundred hall of fame points!

We learned that the man is even more remarkable than the legend. After all, how many other people that have dominated their sport so completely, would take the time to work with guys like us? Weve only been competing for a couple years. Weve only been to a couple dozen competitions.

Tony took us to his own personal practice range, the place where he has spent 3 days a week for the past 20 years, practicing, studying, tuning, and reading the winds.

Many times, when we would ask why one barrel or powder or bullet or something works better than another, Tony would answer, I have no idea why, but I know it does, because Ive tried it. Other times his answer would be, I dont know, maybe something else is better. Probably something is better, but this is the best one Ive found so far. A man who knows he doesnt know is a man who is ready to learn. Tony is learning, maybe more than ever, now that his eyes are not as clear, his hands not as steady (so he says), and he can still win the big ones.

Tony helped Leo understand what he would need to learn, if he is to make the most of his own abilities in benchrest shooting. His trigger pull is not smooth enough or consistent enough. He needs to learn to shoot much more quickly, and know exactly where to concentrate his attention at each moment at the bench.

Up to now, Leos been a pure picker, waiting until his condition comes around before he shoots, and checking conditions closely before each round. Tony says you can shoot some tight groups that way, but youll always be struggling with the clock and often miss out on good long letups. To be a consistent aggregate winner, Leo needs to learn to shoot like a runner, trying to get five shots off before the condition is lost.

The mechanical motions of unlocking, extracting, chambering, locking, and returning to the aim point, while important, are not the elements that require primary attention. Seeing the wind conditions as they approach and sweep across the range, seeing the patterns they form, recognizing the cycles and anticipating the letup that will hold long enough to give you 5 good shots these are the most important things for us to learn.