Bridgeville IBS match on 6-3-01
This past weekend, I shot in my second registered IBS benchrest match. I shot a match last month with my varmint gun and did pretty well but quickly realized that I was at a serious disadvantage. You can read more about that experience in the 6BR article that is also on the site. I received my used benchrest gun that I purchased off of the classifieds at www.benchrest.com from a gentleman by the name of Bill Cook. It so happens that Bill is also a small caliber enthusiast that shares a lot of similar interests. I received the gun the week after the May Bridgeville match and had 3 weeks to prepare for the June match, which was held this past weekend. I had been to the range only twice with the gun to develop a load, but had been given invaluable information from Bill about the loads that he found to be effective.
A little more detail about the gun is probably in order so here it goes:
Action: Stolle Panda RBLP
Barrel: Shilen
Stock: McMillan Fiberglass Black and White Marble finish.
Trigger: Jewell
Scope: Leupold 36x fine cross hair
Gunsmith: Ron Hoehn has fit the last two barrels but I dont know who the original gunsmith of the gun was.
Caliber: 6 PPC - .262 neck chamber
Load Data: 28.3 grains of n133 (OO lot), 65 grain Gentner bullet, Lapua cases.
In the 2 trips to the range, the largest group that I was able to shoot measured just over .3" and the smallest measured .14". My friend Craig Kostyshyn who has helped shorten the learning curve shot a group that measured .12" with the gun but I didnt shoot it and wont take credit for it. Craig is my benchrest mentor and has helped me along plenty.
To ensure that I would have plenty of time at the match, I preloaded all of my rounds the night before the match. I have 80 cases for this barrel that were loaded for this shoot. I figured on 10 during the open range and 10 for each round including the warm-up. That would expend 70 rounds and leave me an extra 10 for breathing room. I actually left the match with 19 unfired rounds. We got caught in stand-still traffic and were considering going across the grass median and turning around to find a back way around the traffic. All of the traffic was trying to get to the Nascar race in Dover, and we needed to get to the other side of Dover. Just when Craig was scoping out the best place to drive across the median the truck (Dodge 4x4) in front of us went across the median and buried the front 2 tires in the wet drainage ditch. We tried to help him get out for about 15 minutes but had to get to the range. We picked out a better crossing point and got across the median without any problem. We got directions from a local at an archery shop and got around the traffic and to the range. We showed up at the range at 10:15 with the match start time of 11:00 and the open range time of 10:00. We were able to set up our flags in a hurry and take a few shots. I was thankful that I had prepared for the match by loading in advance, because we were extremely rushed to get everything ready.
I fired 8 shots during the open range to verify my zero and get a feel for the wind that was apparent. The wind was 10 15 mph from left to right. My point of impact at the range the week before was a little left, which turned out to be perfect when holding for the left to right wind. I was able to hold on the left side(9:00) of the 10 ring most of the day. At times when the wind was not as strong, I could hold dead center on the dot (x). With the 8 shots that I fired during the open range, they were all in the 10 ring and I felt confident with my point of aim.
I had set a personal goal for this match to shoot a 245 or better the strong wind made me hedge on my initial goal of shooting a clean 250 round. With the 233 score from the last match and the fact that nobody finished clean, I didnt want to set an unrealistic goal.
During the warm-up round I shot a clean 50 and had 1x. I felt confident going in to the first round and shot a clean 50 with 1x. In the second round, I shot a clean 50 with a 4x. I followed that up in the third round with another 50 and 4x. In the fourth round, I shot a perfect target with a 50 and 5x. Going into the last round, I knew that I had to shoot clean and was reminded by a couple of shooters that I might get my first 250 sticker. I was a little nervous and let one slip a little farther than I would have liked but it still cleanly broke the 10 ring. I took a couple more shots at the sighter to give me a chance to calm down and then finished the 3 remaining targets when my chosen condition arrived. I finished the final target with a 50 and 3x. My total score for the day was a clean 250 with 17xs. I had demolished my highest expectations. During the match, I had not watched the scoreboard but had only gotten my targets and checked my scores. After the match I was on the last relay, somebody told me that I had finished in 2nd place. I looked at the board while Craig was adding up the scores and it seemed that I had indeed finished in 2nd.
After the clean-up, all of the shooters gathered around Bill Truitt (match director) to get the final standings and to hand out the plaques and 250 stickers. Bill announced the 3rd place shooter and then announced the 2nd place shooter as Craig (my mentor) with a 250 15x. Craig spoke up and said that I had shot 17x and that I should have been the 2nd place finisher. They went back to the score sheets and realized that they had made a mistake. Craig finished in 3rd place with 15xs. This is Craigs 2nd straight top 3 finish.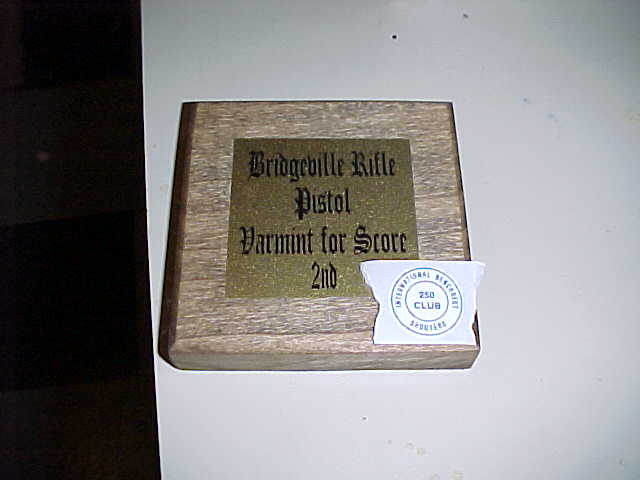 The following is a post that Bill Truitt made on the www.benchrest.com message board after the match. The only mistake to the post was that I was using a used gun but I dont think a new gun would have shot any better.
Bridgeville stormed by New blood.
Posted by bill truitt on Sunday, 3 June 2001, at 8:48 p.m.
We have had our second match, A new shooter with a used gun finished second last month and a new shooter with a new gun finished second this month. We had a good turnout. Like to congratulate Joe Dempsey on the win last month, Gary long for Hunter, and Sara Harren for V. Hunter. This month winner was no surprise. Marshall Lewis kicked butt. He shot 250-21x's to win, Jim Saubier finished second with 17x's and His riding partner was 3rd. Craig Kostyshyn ( bet the raido never got turned on, on that ride home). Top 4 winners shot 6ppc and a 30 cal br finished 4th. We have a rookie 80 years old. He looks like a kid at christmas when commence fire is said. He is shooting ppc and looks to be a future winner. Thanks to everyone for coming. Have good news to pass on before next match. Thanks Bill Truitt
The following are the results from the match that was sent to me by Bill Truitt. There was an equipment list at the bottom for the top 3 shooters that I have deleted because of some formatting difficulties.
Match results from 6-03-01 Varmint for score
Name

1

2

3

4

5

total

Marshall lewis 50

5x 50

4x 50

5x 50

5x 50

2x

250-21x

Jim Saubier 50

1x 50

4 50

4x 50

5x 50

3x

250-17x

Craig Kostyshyn 50

3x 50

2x 50

4x 50

3x 50

3x

250-15x

Wm. Barwick 50

3x 50

3x 50

2x 50

3x 50

3x

250-14x

Nelson Collison 50

4x 50

3x 50

2x 50

2x 50

2x

250-13x

Herbie Barlow 50

3x 50

1x 50

3x 50

2x 50

4x

250-13x

Bill Truitt 50

2x 50

1x 50

3x 50

1x 50

4x

250-11x

Paul Williams 50

4x 50

1x 50

0x 50

2x 50

0x

250-7x

Wm. Dempsey 50

2x 49

3x 50

4x 50

3x 50

5x

249-17x

George Rogers 50

2x 49

2x 50

2x 50

4x 50

3x

249-13x

Bryan Hitchens 50

1x 50

2x 50

3x 49

2x 50

5x

249-13x

George Calloway 50

2x 50

4x 49

2x 49

2x 50

3x

248-13

Keith Hastings 48

1X 49

2X 50

3X 50

0X 49

1X

246-7X

Ed Nicholson 49

3x 43

0x 46

0x 50

3x 48

0x

236-6x

Hunter class

Kenneth Bell

49-3

49-1x

49-0x

50-1x

50-1x

247-6x
No Varmint hunter shooters.
---