Product Evaluation: Lucas 20 Caliber Bullets
CAUTION: This article contains load data, which can be very sensitive in these small cartridges and bores. Please work up accordingly taking very small increases in charge weight.
---
Product Evaluation: Lucas 20 Caliber Bullets
By: Dan Clements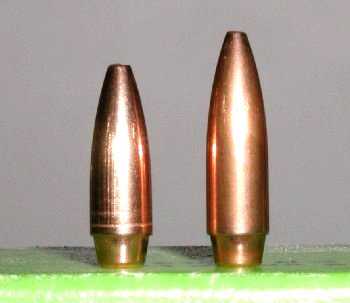 Things are heating up again for 20 caliber fans. Russ Lucas, well known for his wide selection of hand swaged 14 caliber bullets, has now expanded his line to include the popular 20 caliber. His first offerings are 40 and 45 grain hollow points with rebated boat tails.
Fellow 20 shooter Mike Johnson of Texas and I were lucky enough to receive some pre-production samples of the 40 grain bullets for testing. My first impression upon opening the box was that these are some great looking bullets! Quality appears very high, and checking a number of them on my scale confirmed it, as uniformity was very good. As the photo shows, they are nearly identical in length to both the Hornady V-Max 33 gr. and the Berger 36 gr. bullets, two popular choices among 20 caliber users. What sets these bullets apart are the nicely shaped boat tail, and the heavier 40 grain weight. Many of the 20 caliber shooters I've spoken to have wished for a heavier slug, and I can recommend that they give this new offering a try.
Shortly after releasing the 40 grain bullets, a couple of us 20 caliber shooters spoke to Mr. Lucas about the possibility of a slightly longer bullet, and within days he responded with a heavier 45 grain design which I have also received samples of. As well as being longer, this bullet also has a tighter point than the 40 to maximize the BC.
To check out these new bullets I used my Tactical 20, which is built on a Remington Model 7 by Gre-Tan Rifles in Colorado. It has a 24" Pac-Nor 3 groove barrel with a 12 twist, and has always been an excellent shooter from day one. In good conditions it is no trick to keep five shots under .5" consistently with either the Hornady bullet or the Unmussig 35 grain, the only two bullets I've tested in it prior to these new offerings.
Hodgdon Benchmark powder has always worked well in my rifle, so I began testing with it. I expected the heavier Lucas bullets to give optimal performance with slower powder than normally used with the light Hornady V-Max, so I also included Vihtavuori N-140 and Ramshot TAC in my testing, powders that always provided top performance in my 19-223 Calhoon with similar bullet weights. Briefly stated, accuracy of the Lucas 20 caliber bullets was very good with many five shot groups in the ½" range in lousy shooting conditions. I'm looking forward to doing much more load testing soon as well as some hunting with these new bullets.
Using a two chrono setup and the NECO QuickTarget software, I calculated the BC of both bullets. The 40 came in with a BC of .200, and the 45 grain bullet averaged .240. This compares favorably with the Hornady V-Max at .187 and the Berger 36 at .161.
For more information about these and other 20 caliber bullets and load data, visit Mike Johnson's 20 Caliber page at http://www.angelfire.com/sd/6mmackley/twentycaliber.html, and Russ Lucas can be contacted at http://www.smallcaliberbullets.com.
Tactical 20 load data for Lucas bullets

Rifle: Gre-Tan custom Remington Model 7, Pac-Nor 24" 12 twist bbl.
Cartridge: Tactical 20, .229" neck
Brass: Reformed IMI 223
Primers: Remington 7 ½
Lucas 40 boat tail Hodgdon Benchmark 25.5 grains 3650 fps
26.0 grains 3760 fps
Vihtavuori N-140 26.0 grains 3576 fps
26.5 grains 3682 fps
27.0 grains 3777 fps
Ramshot TAC 26.0 grains 3695 fps
26.5 grains 3765 fps
Lucas 45 boat tail Ramshot TAC 25.5 grains 3630 fps