Saubier.com Prairie dog shoot.
Anticipation for this trip began 6 months prior, when a few members of www.saubier.com started the planning. It was plenty of time to plan such a trip, but as things go, I hadn't begun loading ammo until 2 weeks prior to the departure. In 2 weeks I managed to load more ammo than I have probably loaded in the last several years combined. In the eastern part of this fine country, we don't have the shooting opportunities afforded to the folks living in prairie dog country. I can usually take a few loaded rounds and stuff in my pocket for a walk about the farm looking for the lone woodchuck or 2 in the alfalfa fields after they have been cut and bailed for a couple of weeks until the hay is too high. My point – I just don't have the need for hundreds of cases for each caliber or hundreds of loaded rounds of ammo. This trip provided me with the challenge of making new brass and loading lots of ammo. So, in the truck I loaded up the following guns (primarily rifles).
300 Whisper, contender with 14" barrel. (I know what your thinking, what the hell does this have to do with a small caliber prairie dog shoot – answer is: I don't know either)
20 Tactical AR15 with TROMIX built upper.
17 Javelina, My remington model 700 with PacNor barrel
17 Hornet, CZ527.
22 Hornet, CZ527
22 BR, My friend and barrel maker Craig Kostyshyn insisted that I take his custom gun with one of his barrels on it.
According to the trip planner and my traveling companion – John Squires, the mileage was going to be 1350 miles or thereabouts from the doorstep to the hotel. We planned 2 days of travel out and 2 days travel return, but had hoped to the majority share of the driving on the first day out so that we may enjoy some shooting on Friday. Packed up in the truck with rifles and gear, we hit the tarmac at 4:00 am Thursday June 10th and drive until 10:30 that night in Iowa just prior to reach Nebraska, some 1200 miles distance traveled for the day. It was quite the drive for one day, but it left us with only a few hours drive the next day. We arrive at our hotel in Grand Island, NE (never did see anything resembling a water body that would necessitate an island) at 11:00 am. Upon arrival, the desk clerk informed me that I had an "urgent" message and needed to call somebody. He handed me a little piece of paper and gave me the phone at the counter. It was a guy named Doug Derner from Hornady that heard we were coming to town. He was hoping that we might be able to go out shooting that afternoon, to which I replied – hell yeah!. He said that he had a dog town that was crawling with dogs and that we would have plenty of shooting opportunity. We agreed to meet in the lobby of the hotel in an hour. John and I quickly unpacked and got our stuff ready to go. As we get to the lobby, we are greeted by several of saubier.com board members. Quickly we switched conversations from travelling to small caliber talk. A few of the folks had just returned from the Hornady tour and had lots of interesting bullets and cartridge cases to talk about. We discussed the afternoon plans, and Shawn Rasmussen (local resident and board member) agreed to take a few folks to a prairie dog town that he has permission to hunt. A few of us went with Doug Derner and another Hornady associate by the name of Mitch Middlestat. John and I hopped into Doug's Suburban with a couple of rifles. Doug had brought several (5 or 6) rifles for us to shoot, I was toting my CZ527 in .17 Hornet and John had his Marlin.17 HMR as we were instructed to bring a rimfire along. We arrived at the farm and were greeted by the farmer, he was certainly happy to see us. He quickly instructed us to follow him. As we drove into the pasture, excitement grew as the dogs appeared throughout the pasture below us. We couldn't set up fast enough. I quickly had my CZ out laying in the prone position with a small bipod on the gun. Targets were plentiful and the shooting was steady. Mitch and I remained in this spot for over an hour where I shot 75 rounds of .17 Hornet ammo and he shot about the same amount from his Marlin 17 HMR. I took a turn with his HMR as well and was impressed with the effectiveness and range of the little cartridge.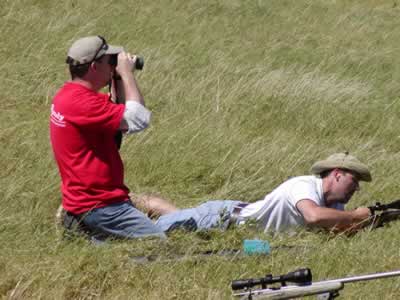 After laying in the prone position for that period of time, we decided to take a stroll over to see what the other guys were doing. Apparently, Mitch and I had been shooting at a very small section of the dog town. The other guys, Rich Miller and Jay Thomason were set up on 2 benches overlooking a large area of the dog town. We spotted for them for a bit and then took turns on their benches.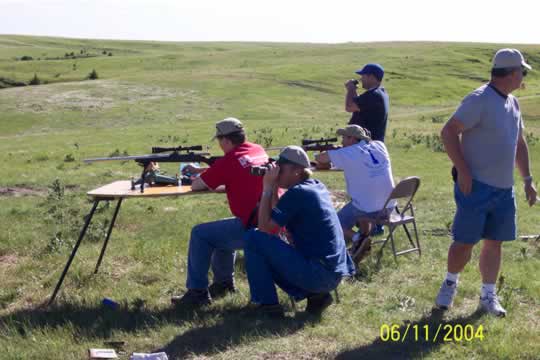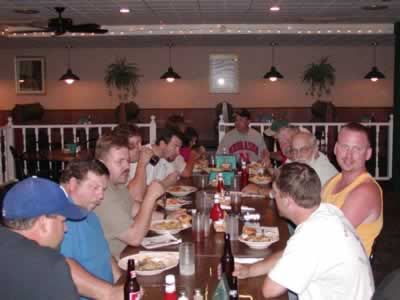 While there, I had the opportunity to test a Ruger 77 Varmint model chambered in 204 Ruger (Douglas barrel). This was an early prototype gun from Hornady. I went through 3 boxes of factory loaded ammo and was able to connect on dogs at the furthest shooting opportunity of 400 yards. Jay encouraged me to shoot his purple gun – a custom built AR15 in Tactical 20. I'm relatively new to the semi-autos after just recently getting a TROMIX AR15 upper in Tac 20 to test, which would be used in the following days afield. Shooting the purple gun on a dog town with this many targets was too much fun. His purple gun was quite heavy and spotting your own hits enabled me to quickly adjust for windage and follow-up with additional shots if needed. Self restraint was needed since I didn't want to fry his beautiful rig. Mitch had his own AR15 in .204 Ruger and was blazing away next to me. Approaching darkness, the group of us grabbed the rimfires and took a stroll. As we walked around the dogtown, we took turns (not really) shooting at the dogs scurrying around us. Shooting was from 50 –150 yards offhand. It was quit fun, competitive in nature as each of us was trying to dispatch the target first. Doug Derner had a Ruger 96 lever action 17 HMR with an octagon 17 HMR barrel (Green Mountain Drop-in) that was incredible for this type of shooting. We also took turns with a Ruger 10/22 chambered in the new .17 Mach 2 that is due out in the fall of this year. The mach 2 is incredibly quiet and a neat little round. I imagine that it will be a popular little round, one that my own kids wil have fond memories of as they get older, akin to the way I remember my first rifle, a Ruger 10/22. Nobody really wanted to quit, but it was getting late. We packed up all of the gear and headed back to the hotel. At the hotel restaurant we found the rest of the attending saubier.com members. Introductions were made and we ate some dinner over more small caliber conversation.
After dinner, we convened in the hotel bar just next door for a few beers. I guess I lost track of time, since it was last call before I realized it. Saturday morning came quickly. Breakfast at 7:00 am was quiet in comparison to the night prior. We hit the first dog town and were greeted by only a few dogs, all at distance. We shot for a couple of hours at distances ranging from 400 – 890 yards. With a strong crosswind, the dogs were pretty safe at these distances. A few dogs were taken at the 400 – 500 yard mark, leaving shots of 600 yards and further. We packed up and went to another town. The next dogtown provided with some reasonable shooting at distances of 200 – 500 yards. One particular dog allowed me to test the range of my .17 Javelina. It took me around a dozen shots but I finally connected on him at 560 yards. This was the longest shot that I got for the trip, and my longest shot to date. I set up the Tac 20 TROMIX AR for a while and had a blast with it. The 10 round magazine would last only as long as it took for the targets to go down. With this rig, I was able to spot my targets, never lift my head to reload (with a bolt gun) and follow up with quick shots. The fun factor and effectiveness of these AR's is something that everybody should try. During this trip, I had the opportunity to test 4 different AR's, all extremely accurate rigs. We packed it in around 6pm to get ready for the buffalo feed that was put on by Gary Wenzyl at a local park.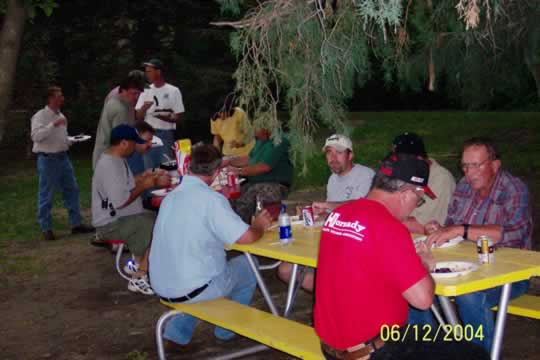 Gary Wenzyl was the person responsible for planning the entire trip, which included 16 of us in all.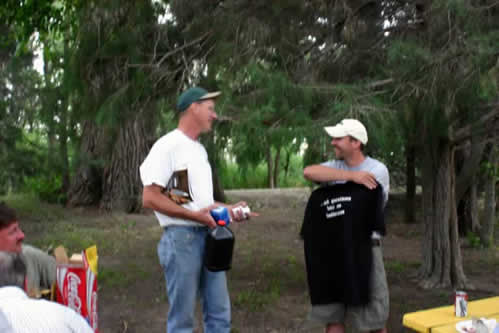 At the buffalo feed, I had the pleasure of presenting Gary with some gifts from all of the shooters in appreciation for his efforts. We had a nice time at the park, it was pleasurable to meet and talk with all of the fine folks that I've met on the internet who share the common interest of small caliber shooting. I passed around a notebook to get a list of the guns that all of these folks had brought and thought that it would be worth sharing here.
| | | |
| --- | --- | --- |
| Location | Name | Guns/Calibers on hand for shoot |
| NE | Chuck Rossilen | 17 Mach IV, .223, 19-223, 22-250, 22 Hornet |
| NE | Stephen Grant | 17 Shrew, 17 Hornet, 17 Mach IV, 20 PPC |
| WY | Dan Clements | 17 Hornet, 17 mach IV, 17 Javelina, 19 Calhoon, 20 Duster (2 of these) |
| CO | Matt Smith | 17 Ackley Bee, 17 PPC, 19-223, 223 |
| MD | Ray Hauver | Tac 20, 223 AI |
| MO | Richard Miller | Tac 20, 17 Hornet, 17 Mach IV (2 of these) |
| MO | Jody Henkle | 17 CCM (2 of these), 17 Rem, 17 PPC, 22 Hornet, 223 Rem (1 AR15 and 1 XP100), 300 Whisper contender |
| NE | Shawn Rasmussen | 17 Hornet, 22 Hornet, 223, 22lr, 300 Dakota |
| MO | Jay Thomason | Tac 20, 22 BR, 22-250, 221 Fireball, 22 wmr |
| NE | Gary Wenzyl | 17 CCM, 218 Bee, 17 Rem, 17 Hornet (2), 17 HMR, 22 K Hornet |
| MD | John Squires | 17 HMR, 223 |
| NE | Mitch Middlestat | .204 Ruger, 17 Mach 2, 17 HMR |
| NE | Doug Derner | .204 Ruger, 20 Derner, .17 HMR |
| OK | Tony Rumore (TROMIX) | .204 Ruger (Dominator), Tac 20 AR15 |
| OK | Brad Smith | .17 Rem AR15 |
Sunday morning, we headed out early for some dog towns a little further away. We went to some towns in the morning that didn't produce many shooting opportunities and then headed back to the dog town that we were at the afternoon before. At this dogtown, we headed to some different areas, and John and I had the opportunity to shoot with Jody Henkle, Matt Smith, and Dan Clements. We shot pretty steadily all day long, taking turns spotting and shooting. I had the opportunity to shoot some of Dan's fine rifles, with which I was able to connect at some pretty distant dogs. Dan had several coopers, a couple Sako's, and a Browning that I got to try. One particular rifle, a Cooper Varminter model chambered in .17 Mach IV with a fixed 12x power Leupold scope that had been modified by Premier Reticles. The scope had hold over dots with fine crosshairs and was set up with the ballistics of that rifle perfectly. Dan ranged some dogs at distance, I used the appropriate dot and was amazed at the results. I was able to connect on 2 pups in 2 consecutive shots at 420 yards in some stiff wind. I will have a scope set up like this in the future for one of my varmint guns, probably my .17 Javelina. I was also able to shoot his custom Sako chambered for the .20 Duster cartridge. This gun was responsible for some very hard hits on dogs even out to 300 yards. Enough about my shooting of Dan's guns, I wasn't nearly as effective at hitting the dogs with his guns as he was. Dan was certainly proficient at shooting prairie dogs. I had the pleasure of spotting for Dan and Matt a good bit that afternoon. See picture of Matt and Dan assaulting the p-dogs from afar.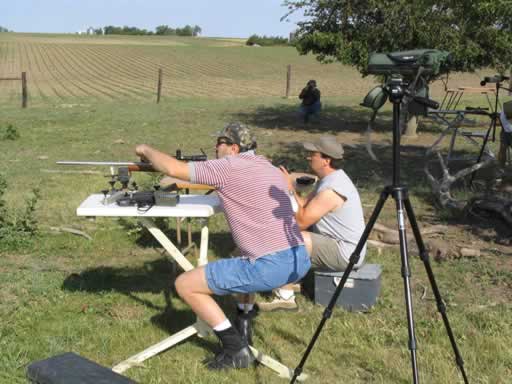 This was a trip of a lifetime for me, an opportunity to meet folks with whom I've talked to for years and shared a common shooting passion. It was more about the people than the hunt, we had such a good time sitting around talking, learning, and sharing experiences. The camaraderie made the trip great. Seeing the beautiful country side, shooting the dogs, testing the wind in NE, and hanging out in between. Getting to test the cool stuff from the fellas at Hornady. The memories will last a lifetime for me. I've got a lot more pics than these, but wanted to share a few with you all. Thanks to Shawn Rasmussen for taking almost all of the pictures, and to Gary Wenzyl for putting it all together.